SAVE VAMPIRE ACADEMY OUTREACH
See below or at our Linktree for outreach initiatives to save Vampire Academy. The show was canceled after the first season despite growing a strong fanbase. Email our team at savevampireacademy@outlook.com with questions or additional suggestions!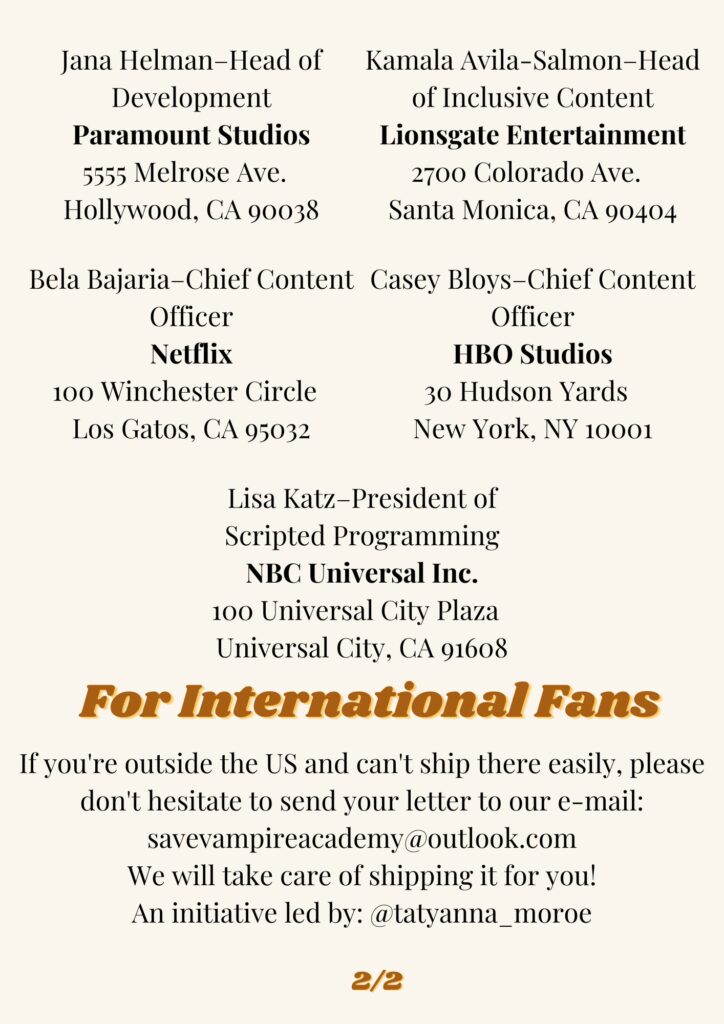 Additional Streamers to Email
Script Provided by Reddit user MilkyMickeyWay
"Hello X, I am reaching out to request you pick up the show Vampire Academy for a season 2. It aired on a streaming service that did not handle it well. Despite that, it had a very dedicated fanbase that caused it to continuously trend on Twitter. Not only that, it has involvement from popular showrunner Julie Plec of Vampire Diaries fame. If allowed to continue, I have full believe that this show will grow to major success as well if allowed the natural time required to do so."
SAVE VAMPIRE ACADEMY GOALS & OBJECTIVES
The Save Vampire Academy Campaign's main goal is to support efforts to reverse the cancellation of the show, or to encourage other streamers (such as Prime Video, Hulu, Paramount +, Lionsgate, …) to pick up the show and give it another chance. It aims to create momentum in order to garner press attention, reach potential new audience members, keep the show alive online and attract streamers' attention thanks to the fandoms' activity, as well as to create a warm and hopeful community that shows support to the show's all team.
This website not only gathers all the information about the campaign (initiatives, press coverage, contact information, …) and makes it easily accessible for all interested parties, it also is meant to give a voice to the audience to speak on the many social issues explored in the show, as well as what the show means to the fandom. We take a deeper look at the meaning behind Vampire Academy. The site was established and the build started after one week of asking for fan input. What is represented on the site is what has been requested by fans. So if you want to add something -- reach out. Your voice matters and you belong.